About us
Since December 1993 there has been an anarchist library in Berlin. At first it was named BARBATA but since August 1996 it has been called
Bibliothek der Freien [Library of the Free].
The aim of the library is to make publications about anarchist theory and praxis available to an interested public. This will help spread knowledge about anarchist ideas, whose relevance is still underestimated – particularly in Germany.
Why ›Bibliothek der Freien‹?
Berliner Freie Our name is a reference to the Berliner Freie, a circle which became famous far beyond Berlin as a beacon of radical oppositional spirit during the German Vormärz [the eve of the 1848 Revolution].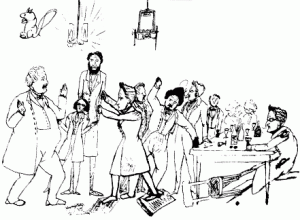 The preferred meeting places of these casual debating circles used to be in the centre of old Berlin, not far from where our library is located today. It was there that the men and women of that restlessly critical and disrespectful generation that grew up in the Germany of the 1830's used to gather from 1840 to 1849.
Although they were only in the spotlight for about a decade, the Berliner Freie represent one of the radical traditions which we think it is meaningful to take up – not least in the interest of anarchist regionalism which owes a great deal to local anarchist traditions and wishes to continue them.
Anarchist Library
The Anarchist Library contains some 3000 monographs and is subdivided into seven parts for better orientation:
Anarchism: introductions, overall depictions, collections of writings, bibliographies, etc.
Anarchists A-Z
Anarchist movements [in Germany, Spain, Russia, etc.]
Related issues [anthropology, educational theory, criticism of institutionalised power, etc.]
The Enlightenment, Vormärz, left hegelianism, early socialism
Critiques of ›real-existing socialism‹
Unconventional literature; art and anarchism
The Anarchist Library is constantly being improved and extended. It is already one of the biggest collections on anarchism in Germany. The library's catalogue.
In addition to the library's stock, our archives contain some particularly old books and brochures which can be made available on request.
Periodicals Collection
Along with almost complete collections of SCHWARZER FADEN, DIREKTE AKTION and GRASWURZEL REVOLUTION, the collection contains around 8,000 issues of 400 anarchist periodicals from the last 115 years, published in German, Spanish, English, French, Italian, Basque, Portuguese, Finnish, Japanese, Catalan, Dutch, Polish, Russian, Czech and Turkish. The periodical's catalogue.
Organisational Staff
In order to borrow books and brochures it is necessary to become a sponsor, i.e. a member of the Förderkreis [Friends of the Library].
Monthly membership costs 2.50 euros [concessions: 1.50 euros]. If you become a member for 6 or 12 months you will only pay 5 or 10 months respectively. Lending is limited to 3 weeks, but can be extended. There will always be somebody around to answer your questions and give advice. There are also public introductions to the library on a regular basis.
Book Donation
We are interested in donations of books, periodicals, etc., with which to extend our collections, a wish list. Over and above that, we welcome anything which fits into the library's programme as described above.
Contact
Address:
Bibliothek der Freien
Anarchistische Bücherei im Haus der Demokratie
Greifswalder Str. 4, 2nd courtyard, Room 1102
10405 Berlin [Prenzlauer Berg]
Public transport:
Next station Alexanderplatz [Underground + S-Bahn]
Tram 2, 3, 4 [»Am Friedrichshain«]
Bus 142, 200, 257
Postal address:
Bibliothek der Freien im Haus der Demokratie
Greifswalder Str. 4
D-10405 Berlin
Germany
Phone: ++49 / 30 / 313 34 33 [Monday to Friday, 2-4 pm]
E-Mail: DieFreien[at]BibliothekderFreien.de